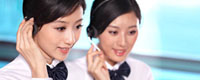 Name: EMILY BIAN
Tel: +86-13700113797
Mobile: 13700113797
E-mail: [email protected]
Add: RM 3-2-2,NO.27 XINSHENG STREET,ZHONGSHAN DIST DALIAN CHINA
Skype: emilydlchina
MSN: [email protected]
QQ: 554289889





Do not forget the original heart, and strengthen the forward movement!
The year 2020, Gengzi, is an uneventful year, as domestic exports were not affected by the epidemic, but work had to be stopped because of the spread of the epidemic abroad. But there is no doubt that in a few months, with the combined efforts of mankind, the situation will improve. Come on!